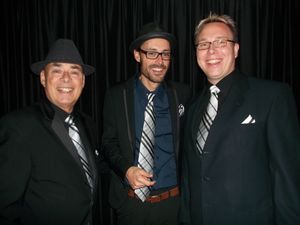 JOHN began his singing career at an early age. He performed in his church choir, and then started singing at high school dances. His first professional job came at the age of twelve when he performed at the Capri Hotel in Montreal as the lead singer for Johnny and the Upsetters. He went on to sing in the Laurentian Mountains north of Montreal with various groups. At eighteen he formed a group - The Spyders - that included bass player and backup vocalist Jim Clench who later became a member of April Wine. They had a large fan club and were featured in local radio and T.V. The members of the group went their own way and John pursued business and family interest. This continued until 1991 when John launched a solo career. Ryan joined his Dad at age twelve, and Reagan came on board at sixteen. After Ryan left in 2003, John and Reagan have continued to perform as "A Bit of Nostalgia".  John is known locally as "Frankie" and "Old Blue Eyes" because of his stellar Sinatra renditions. He is just completing the preparation for a theatre production celebrating Sinatra's 100th Birthday in 2015, including amazing details about Sinatra's life and performing all the well-loved music in Sinatra's repertroire.

REAGAN also has a separate band "Killing Time" where he is the lead vocalist, and the drummer. He has an incredible range that can be seen with the highs in Sherry, right down the the really lows in some of his "Johnny Cash" tracks.  People have often commented on how great Reagan and Ryan's harmony is and attribute it to the fact that their brothers. In actual fact, they are step-brothers. A few personal facts about Reagan - he is an amazing artist with a portfolio of his own original sketches that is impressive. He is taking piano lessons to further his musical career. As mentioned earlier he is a Billy Joel fanatic owning every cut that Billy released domestically or internationally. He is also a Star Wars nut and a movie buff.
 
RYAN was the third member of the group, but left when he became Canada's first Idol, and had great commercial success with his first album "Home" reaching four times platinum on the Canadian charts. After Idol, Ryan formed his own group "Low Level Flight" with great commercial success. He has toured the world enjoying success in India, where he and his band are very popular. He lives in Costa Rica, but enjoys coming home to perform with his Dad and brother for special events.